OUR LEADERSHIP
Behind every great product is an even greater team. At the helm of our company is a group of incredibly experienced, diligent, and passionate individuals who believe in the power of innovation.
WHY WE ARE THE #1 TETHERED-DRONE PROVIDER
INDUSTRY-DEFINING
Hoverfly Technologies is revolutionizing the government and commercial markets for long-duration, small footprint aerial surveillance and secure long-range communications with tethered technology. By enabling continuous power and high-bandwidth data through a persistent tether link, our drones can remain on-station in the air almost indefinitely, providing surveillance, targeting, and communications relay functions – while stationary or on-the-move – from vehicles or vessels.
FIELD-PROVEN TRAILBLAZERS
Hoverfly tethered drones are the premier C4ISR provider of choice for all branches of the Armed Forces and industry partners. Unparalleled capabilities include full-spectrum logistics support for sustainment, overhaul and repair, engineering design and development, systems integration, post production software support, technology insertion, modification, foreign military sales and global field support to our forces.
Our solutions provide 24/7 day and night aerial awareness, surveillance, and communication with coverage of over 5,000,000 sqft of critical and high-value infrastructure. The use of drones in almost every sector of the economy is growing fast, but drone usage in the agricultural industry is booming and has become an essential part of large-scale precision farming operations. The data collected from drones recording fields help farmers plan their planting and treatments to achieve the best possible yields.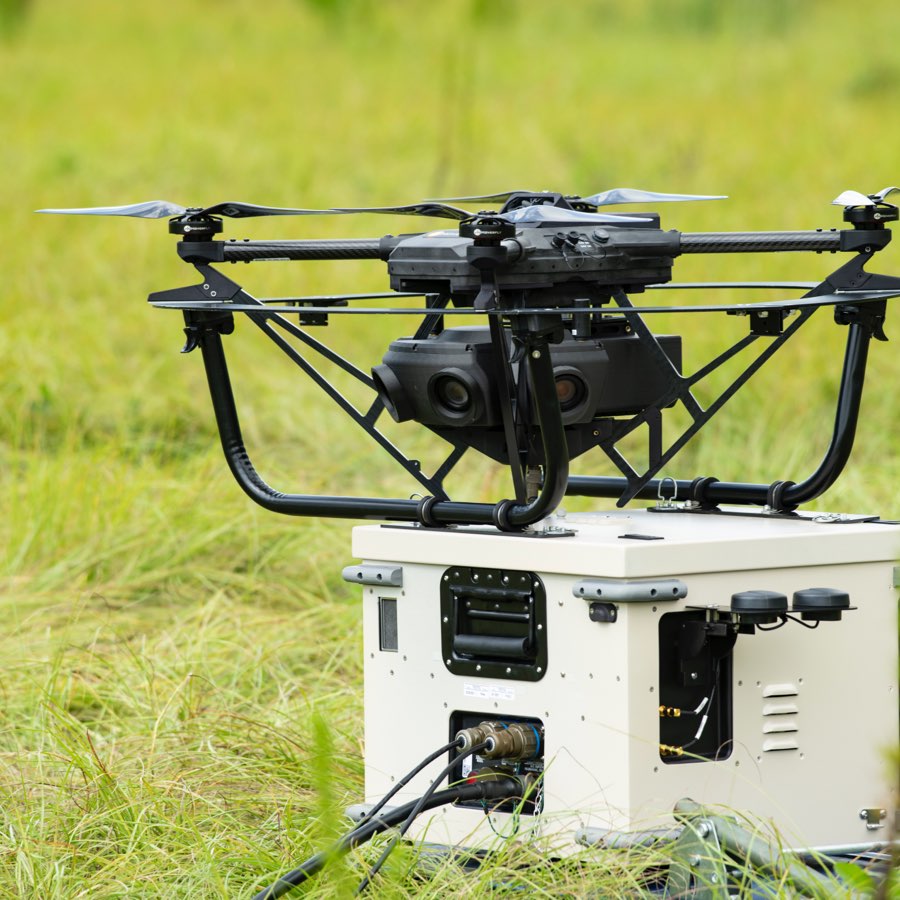 DESIGNED FOR INTEGRATION
Hoverfly's open API and simple SDK makes it easy to integrate our platform and data outputs into existing security and video management. Library interfaces are available for .NET and C++, with more coming soon. Our vast software library allows effortless integration on virtually any platform, including Windows and Linux. In addition, our system also supports standard message-passing interfaces such as MAVLink.
Our simple SDK provides three levels of access to the Hoverfly system, which include: Full Control, which offers complete control of the system and access to all telemetry data streams; Payload-only control, which is control of the payload (i.e., camera gimbal system) and Telemetry monitoring, which provides read-only access to the telemetry data streams generated from the system.
Partners & Associations
NCS4 – National Center for Spectator Sports, Safety and Security
IAHSS – International Association for Healthcare Security & Safety
ASIS – American Society for Industrial Security
IACP – International Association of Chiefs of Police
NSA – National Sheriffs' Association
ISC – International Security Conference
ISA – International Security Association
ISMA – International Security Management Association
SIA – Security Industry Association
IAFF – International Association of Fire Fighters
NFPA – National Fire Protection Association
NFA – National Fire Academy
IAFC – International Association of Fire Chiefs
AUVSI – Association for Unmanned Vehicle Systems International